Join the Long Island Chapter as we cheer on wounded veterans and support those who have served our country! Plus, we will be rooting on our very own Chapter Leader, Rob Piscatelli while he shows off his lacrosse skills as goalie :)
WHAT: 2017 Shootout for Soldiers Long Island! 24 consecutive 1-hour lacrosse games will be taking place and they're open to all ages, teams for both men and women, plus music, food and fun! The mission is to use lacrosse as a platform to support American veterans and foster community engagement. There will be plenty for our volunteers to do, such as handing out water and t-shirts to players, and most importantly, cheering on the wounded veterans during the annual wheelchair game. Kids and adults can make patriotic signs to encourage players and thank our brave veterans for their sacrifice. (Poster board and markers will be provided) We will even be lining up and doing a special salute to the veterans!
WHERE: Field of Dreams Park
5619 Old Sunrise Highway Massapequa, NY 11758
WHEN: Thursday, July 20th from 6PM- 8PM
WHO: YOU! Volunteers of all ages are welcome.
DON'T FORGET: *Bring a cheering spirit! *This is kid friendly. *Clappers and pom poms will be provided for our cheering section.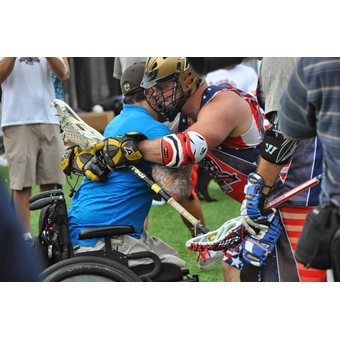 Field of Dreams Park, 5619 Old Sunrise Hwy, Massapequa, NY 11758, USA