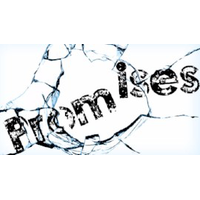 How to handle broken promises: An unfortunate inevitability

How do you handle promises you have made and broken? How about promises others have made to you and broken? At this month's Meetup we discussed broken promises and the unfortunate reality that promises will be broken to us and by us.


So how should you handle a broken promise? While there is no perfect process to handle broken promises, we introduced a guide with helpful thoughts on how to best handle these situations.

Just as careful consideration and planning is needed when making promises, the same consideration is needed when handling broken promises. To help members get better at handling these unfulfilled promises, they performed an exercise using this guide,

Want to try it for yourself? Download our "How to Handle Broken Promises" diagram chart and exercise sheets below.



| | | |
| --- | --- | --- |
| | | |
"Apologize."- A promise story

This month's featured promise story is shared by a supporter who has struggled with broken promises and commitment within her own relationships. Her story highlights her decision to take accountability for her actions, starting with an apology. She confronts the lack of follow through in her words and decides to accept whatever the outcome may be of her apology to a friend.

CLICK HERE TO WATCH THE "APOLOGIZE." VIDEO

This video is part of a series of promise stories from the lives of everyday people. We believe a video can convince people around the world to make a promise to better humanity. We believe this series, titled "A promise story," will inspire our followers to share their stories with us.

Looking for our other 90+ videos? CLICK HERE













| | | |
| --- | --- | --- |
| | | |
Delete Blood Cancer: Bone Marrow Registration Event

Every four minutes someone in the United States is diagnosed with a blood cancer like leukemia. For many, their only hope for a cure is a bone marrow transplant. It only takes four minute to register to potentially save a life!

For our January Unified Promise, we asked volunteers to help host a Bone Marrow Registration table on Monday January 30th. Volunteers encouraged people to swab their cheeks and fill out paperwork for this important lifesaving cause, promising to donate bone marrow if it is determined they are a match for someone in need.

This Unified Promise was inspired by Sam and Alex Kimura, two girls who sold their cars, bought a van and toured the country trying to save lives through this registry. See their story HERE.

Thank you to all our volunteers and participants! Every new donor on the registry brings hope to patients who are still waiting for their match. To find out more information about eligibility requirements and how a bone marrow donation works, please click below.




| | | |
| --- | --- | --- |
| | | |
Needed: Long Island leadership

We are looking for two dedicated individuals to fill our open leadership positions for the Long Island Chapter.

Organize volunteer efforts

Research charitable opportunities

Collaborate with other nonprofits

Manage projects and task lists

10 hours-a-month commitment

Video and Photography Volunteer

Capture compelling images of Chapter members at Unified Promise events and during Chapter meetings

Capture Chapter Members' individual promise stories in an engaging way

Partner with Communications Volunteer to ensure images are provided to support Chapter social media strategy

Compiling information/statistics/photos to enhance content on our communication channels

10 hours-a-month commitment

If interested click the link below to apply!
---